Director's
Profile
Name: Dr. Raghavendra Bhatta
Education: M. V. Sc., Ph. D. (Animal Nutrition), Post-doctorate (Japan)
Major research areas: Small Ruminant Nutrition, Climate change, Enteric methane estimation and amelioration
Email: directornianp@gmail.com
Phone: 080-25711303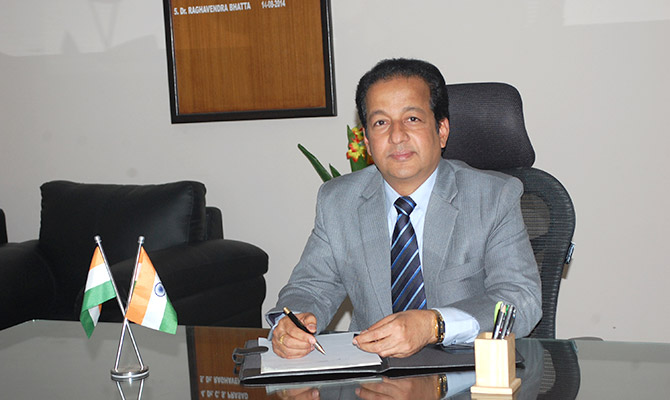 ---
Dear Viewers,
Success is not how high we have climbed, but how positive difference we have made
On my own behalf and on behalf of the ICAR-NIANP family, Bengaluru, I wish to extend warm wishes to all the viewers, stakeholders and well-wishers a Very Happy, Prosperous, Peaceful and Pleasant year on the occasion of onset of New Year – 2019.
Dear Friends, with a sense of great satisfaction, I look back to see the past year 2018 having been another successful one, as our Institute completed 23 years of its inception, on 24th Nov. 2018. The event was celebrated with gusto, with the inspiring presence of Hon'ble Secretary (DARE) and Director General, ICAR, joined by the DDG (Fy & AS), both of whom projected their vision and gave several guidance to the Institute in our research activities on this occasion.
In the beginning of the year, i.e. in February, we organized "Farmers' Conclave" in collaboration with all the Bengaluru-based ICAR Institutes. This 2-day Conclave was hugely fruitful, being attended by about 1500 farmers. 50 exhibition stalls arranged by different agriculture/animal husbandry based organizations, were visited by the farmers, who evinced considerable interest in the application of various technologies for enhancing production and productivity of different products. The Scientists-Farmers Interactive sessions held on this occasion, proved quite useful to the farmers. Querries put forth by the farming community were ably answered and guidance provided by the scientists to the satisfaction of the participating farmers. This event was marked by the graceful presence of Hon'ble Union Minister of Agriculture, Shri Radha Mohan Singh ji, accompanied by three other Hon'ble Union Ministers, late Shri H.N.Anantha Kumar, Shri D. V. Sadanand Gowda and Shri Ananth Kumar Hegde. The Hon'ble Union Ministers reached out to the farmers with their visions for the upliftment of farmers as well as explaining several programmes initiated by the Government of India for the development of agriculture/animal husbandry and fisheries sector.
Throughout the year, the NIANP organized various Human Resources Development Programmes for international trainees as well as trainees from Animal Husbandry & Veterinary Departments of different State Governments across the country as also the State Agriculture/Veterinary Science University officials and the scientists working in KVKs in Karnataka state. These programmes included regional training programme for SAARC countries, post-doctoral fellowships in animal sciences for African country faculties under DST, GOI programme, Winter School, Short Course and Model Training Course, and also under Mera Gaon Mera Gaurav project, the farmers involved in animal husbandry and livestock/poultry rearing. Looking to the capacity of this Institute, few of the organizations like MANAGE have sought our expertise to provide training to extension workers. Similarly, on the occasion of Institute Foundation Day, several entrepreneurs and the KMF were honoured for their initiation in popularizing the farmer-friendly technologies evolved, commercialized and patented by the Institute
The Institute, having many useful infrastructure and research facilities of international standards, added few more to its strong base, such as Feed Unit, Poultry Unit, and Sheep Shed. More importantly, one of the most important projects - the Animal House is almost complete but for some of the internal works, which is likely to be formally dedicated in the coming few weeks.
The Institute has made remarkable progress not only in their regular research projects, but also in several International Collaborative projects with Germany, Hungary and Japan.
I would like to add that this Institute has ably contributed to the Swacch Bharat campaign, by periodically undertaking cleanliness drive and making Laboratory, Livestock Units, Office, residential premises and the Guest House a model campus.
While, the scientific personnel of the Institute have been regularly receiving different awards, with a view to encourage and motivate the staff in other categories such as Administrative, Technical and Supporting and even contractual workers, who have been part of the Institute, from this year, an Awards were instituted by the Staff Welfare Club of the Institute to identify the staff who have substantially contributed with their work. Accordingly, few of the staff members were honoured by the Secretary (DARE) & Director General, ICAR on the occasion of NIANP Foundation Day.
We have several new projects and possible innovative ideas for undertaking over the next few years and obtaining few more patents for the research outputs and protocols evolved, particularly in the field of animal reproduction. In the first quarter of the year 2019, the Institute is going to join hands with the Commonwealth Veterinary Association in organizing 7th Pan Commonwealth Veterinary Conference. This major event will be marked with the participation of many renowned overseas scientists, which may provide an opportunity to explore taking up international collaborative projects as well.
The hallmark of the NIANP has been individual commitment to group effort, making it a team work. While these worthwhile progresses on several fronts do give us an elated feeling of fulfilment, I am also conscious that it should not lead to any vapidity, which may be pernicious to the organization. We believe achieving success should be a habit than an act, and in this process it does not matter how slowly we go as long as we don't stop. With the new day comes, new strength and new thoughts and new ideas.
With these positive thoughts, we put our best foot forward as the New Year ushers in. To say that we would strive hard would be a cliché. Rather I prefer strive not to succeed, but to be of value, and we are confident that our work will definitely be of value to our end-users, not only the farming community, but all the stakeholders, which would be the real success.
Once again, I wish A Very Happy New Year to one and all.