Model Training course(6th to 13th December 2018) - Hurry up for early registrations!!!!!!
Farmer Smart Technologies for Improvement of Productive & Reproductive Performance of Livestock under Climate Change Scenario from 6th to 13th December 2018
---
ICAR-NIANP under ATMA programme on 15th Nov 2018
20 Dairy farmers from Virudhunagar district of Tamilnadu along with two officials of Agriculture department visited ICAR-NIANP under ATMA programme on 15 November, 2018 for training cum field visit. Drs S Anandan and S Selvarjau delivered lectures on the general guidelines of feeding and fertility management, respectively. Later, the farmers visited the plots of different forage crops at the Institute. Demonstrations on silage making in plastic drums, pruning of fodder trees, Azolla cultivation and NIANP method of grain sprouts production were given. Root slips of marvel grass and Azolla culture were distributed to the farmers.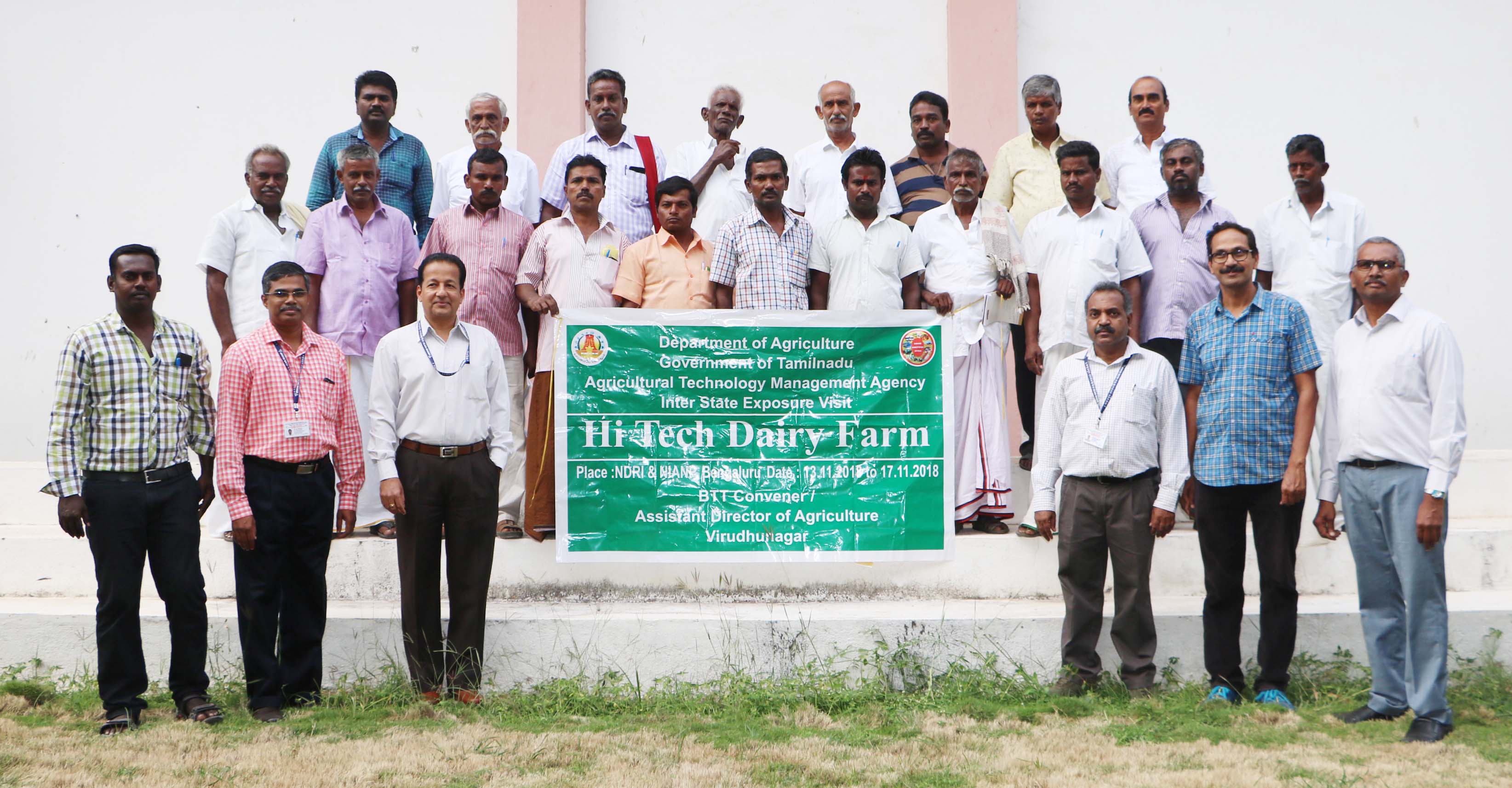 ---
ICAR Sponsored Winter School(1st to 21st November, 2018)
Climate Change Led Abiotic and Biotic Stress in Farm Animals and Amelioration with Nutritional and Physiological Approaches from 1-21 November, 2018. Outstation st participants are requested to arrive latest by night of 31 st October and plan to leave a􀄛er 18 hours on 21 November 2018.
---
Rashtriya Ekta Diwas (National Unity Day), 2018 Rashtriya Ekta Diwas (National Unity Day), 2018
Rashtriya Ekta Diwas (National Unity Day), 2018 was observed in the institute on 31st October, 2018
---
Vigilance Awareness Week 2018
The vigilance awareness week was observed at ICAR-NIANP on 29.10.2018 and took the pledge to "ERADICATE CORRUPTION – BUILD A NEW INDIA" as administered by the Director, Dr Raghavendra Bhatta on 29th October 2018 at 10.00 AM.
---
Trainers' training program on "Fodder cultivation and dairy cattle feeding"
ICAR-NIANP, Bengaluru organized a two-day Trainers' training program on "Fodder cultivation and dairy cattle feeding" to the field staff of ILRI working under 'Feed and fodder production in different agro-climatic zones and its utilization in Odisha'. It was held on 26 and 27 October, 2018 at NIANP. The trainees were given practical training on silage making in plastic drums, pruning of fodder trees, Azolla cultivation, urea treatment of crop residues and NIANP method of grain sprouts production. Lectures on basics of feeding dairy cattle, applied aspects of feed technology, least cost formulation for dairy animals and improved agro-techniques of forage cultivation were given. An interactive session was held to suggest the remedies for the common field problems in Odisha state. Dr K. Giridhar, Principal scientist, NIANP was the training coordinator for this programme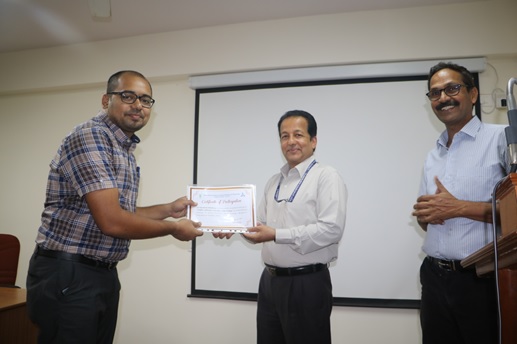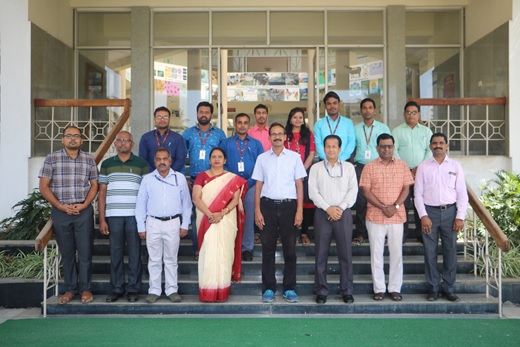 ---
Celebration of Women Farmers Day at ICAR-NIANP, Bengaluru
Women Farmers day was celebrated at ICAR-NIANP, Bengaluru on 15th October 2018. Essay competition was conducted for women staff of the Institute and distributed prizes. Women Farmers from Ragi Halli village under the farmer First project were invited and felicitated. Dr (Mrs) Manpal Sridhar, Principal Scientist and Head of BES Division briefed the contribution of women in agriculture and stressed the need to empower them. Dr Raghavendra Bhatta, Director presided over the function and highlighted the importance to women in family agriculture and her contribution to enhance the farm income.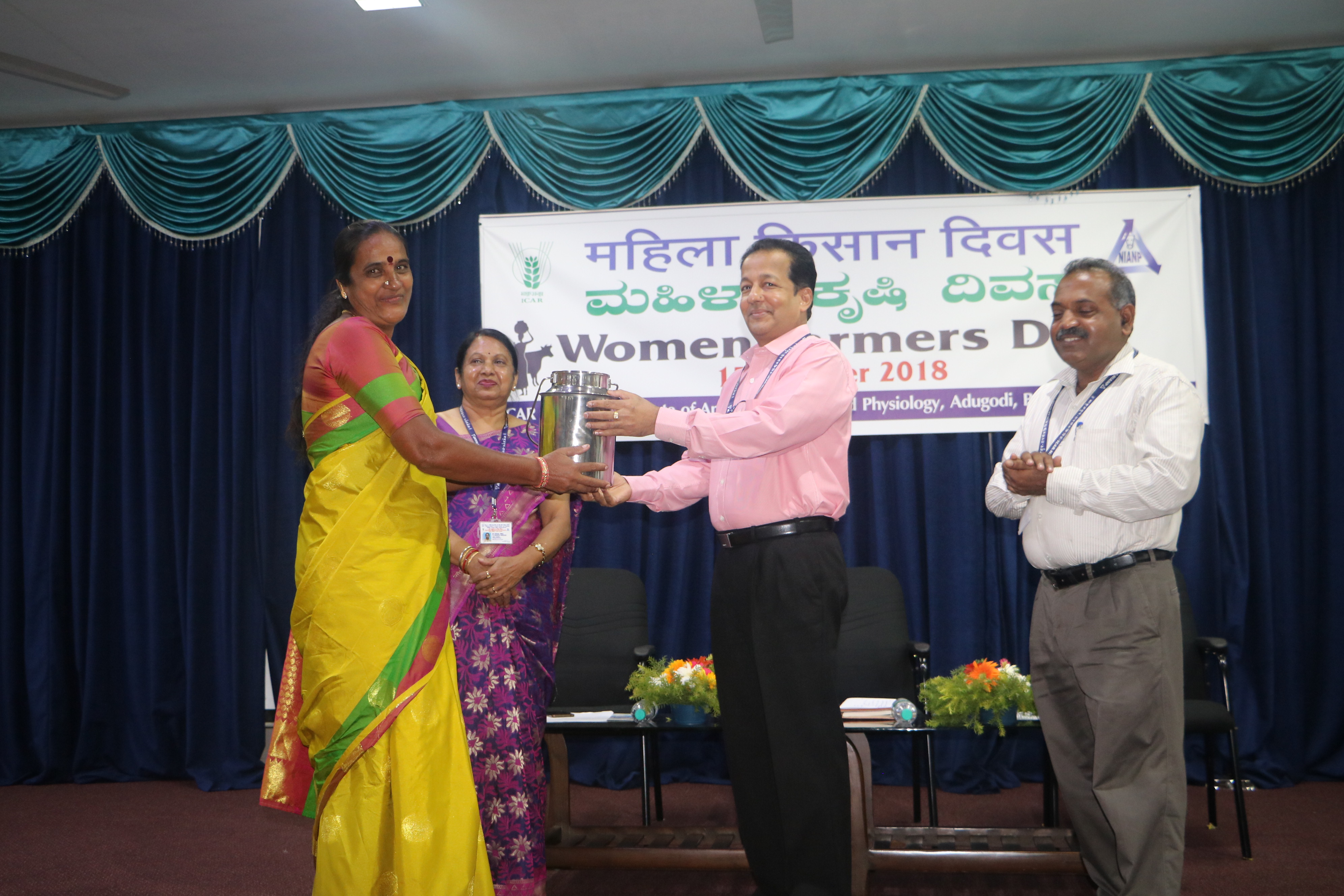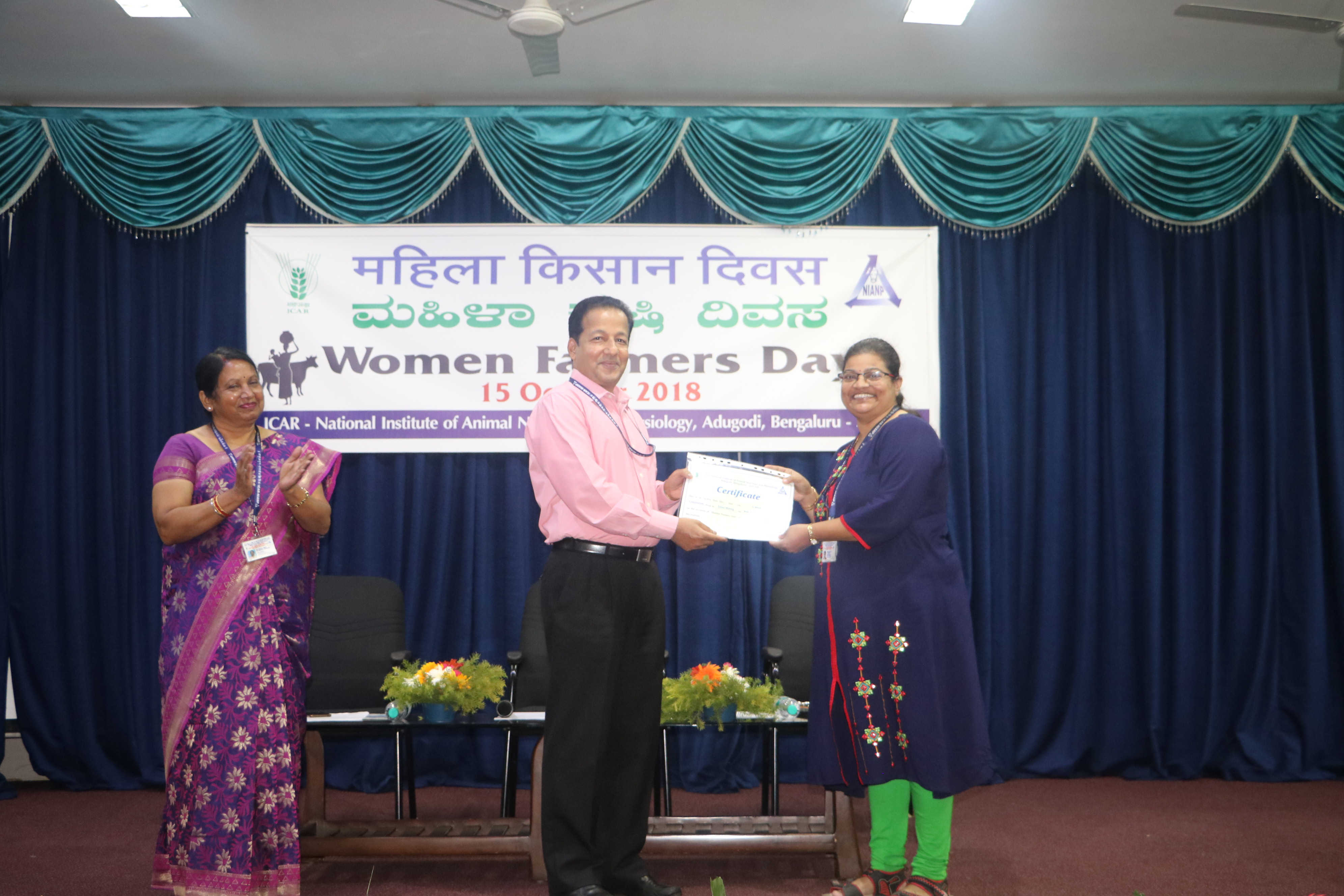 ---
E Tender Notification
E Tender Notification. For details please check under Tenders
---
Advertisement of SRF of NASF project under Dr. Rajendran
Biochemistry, Cell biology, Biotechnology/ Animal Biotechnology and Molecular biology
---
Auction Notice
Interested bidders may participate in large number and bid for the Goats (29 No's) on 27-09-2018 at 11.30 AM....
---
Applications invited for One Senior Research Fellow (SRF) under the time bound National Fund project
Please check under Careers link
---
Auction of Sheep on 1st September, 2018
Auction of 19 sheep on 01-09-2018
---
Young Professional Walk in interview on 31st August, 2018
Check the careers link
---
Results of Technical Assistant (T-3) (Cat. II) Lab Tech and Computer Operator
Please check the results in Careers link
---
NIANP Technology of small ruminant mineral mixture reaches North India
ICAR-National Institute of Animal Nutrition and Physiology, Bangalore has developed mineral mixtures for sheep and goat and the same has been granted India Patent No 294494 filed on 01-02-2012. The technology was commercialised to M/s. Kamdhenu Feeds, Saharanpur, Uttar Pradesh on non-exclusive basis through Agrinnovate India, New Delhi. The memorandum of agreement for licensing to manufacture and sell the formulation was signed between Dr Raghavendra Bhatta, Director, ICAR-NIANP and Dr S P Sharma, Managing Partner, Kamdhenu Feeds in the presence of Shri Ravinderjit Singh, CEO, Agrinnovate India on 6th August 2018 at ICAR-NIANP, Bangalore. By this, majority of small ruminants reared in the north-western states of Uttar Pradesh, Rajasthan, Haryana and Uttaranchal are likey to get benefited. These mineral mixtures are formulated based on the specific mineral requirements of sheep and goat to meet 100% requirement of most deficient trace minerals and partially meet the requirement of other minerals, with a consideration that remaining is to be met through feed and fodder offered to animals. The interaction of minerals like the synergistic action of calcium, phosphorus and antagonistic action of copper and sulfur were also considered while formulating mineral mixture. The products are very useful in improving the productive efficiency and general health in small ruminants. The technology is cost-effective, sustainable, adoptable and environment-friendly. During this occasion, the innovators of this technology - Dr N K S Gowda & Dr D T Pal, Dr K S Prasad, Head, Animal Nutrition Department, Dr A P Kolte, Incharge, ITMU, Smt S Shashikala, AO and Smt P P Sheeja, AFAO were present.
---
Short Course on Technology Smart Interventions for Doubling Livestock Farmers' Income
ICAR-NIANP, Bengaluru organized 10-days ICAR Sponsored Short Course on "Technology smart interventions for doubling livestock farmers' income: Strategies and Approaches" from 30 Jul 2018 to 08 Aug 2018. The short course was inaugurated on 30 Jul 2018 by Dr Mruthyunjaya, former National Director NAIP. In his address, Dr Mruthyuanjaya stressed upon the importance of scientific interventions to increase the farmer's income. Dr Raghavendra Bhatta, Director, NIANP, Bangalore briefed about the various technologies developed and commercialized by the Institute and also the activities under the MGMG and Farmers First programme. Eighteen participants from various states of the country participated in the short course. The training programme included 37 lectures on various subjects such as livestock sector in India, ration balancing tools, mineral nutrition, alternative feed resources, poultry farming, sheep and goat rearing production etc. In addition, few practical classes and demonstrations on fodder production and conservation, feed quality and semen analysis were also arranged during the training programme. One special, brain storming session was held on "doubling the farmers' income". During the valedictory function on 8th August, Chief Guest Dr Sreenath Dixit, Head and theme leader, ICRISAT Development Center, Hyderabad gave away the training completion certificate to the trainees. Dr Sreenath Dixit, emphasized the contribution and significance of various small technologies in enhancing the farmer's income. Dr Swaraj Senani, Pr. Scientist was the course Director and Dr Anjumoni Mech and Dr Letha Devi were the course coordinators.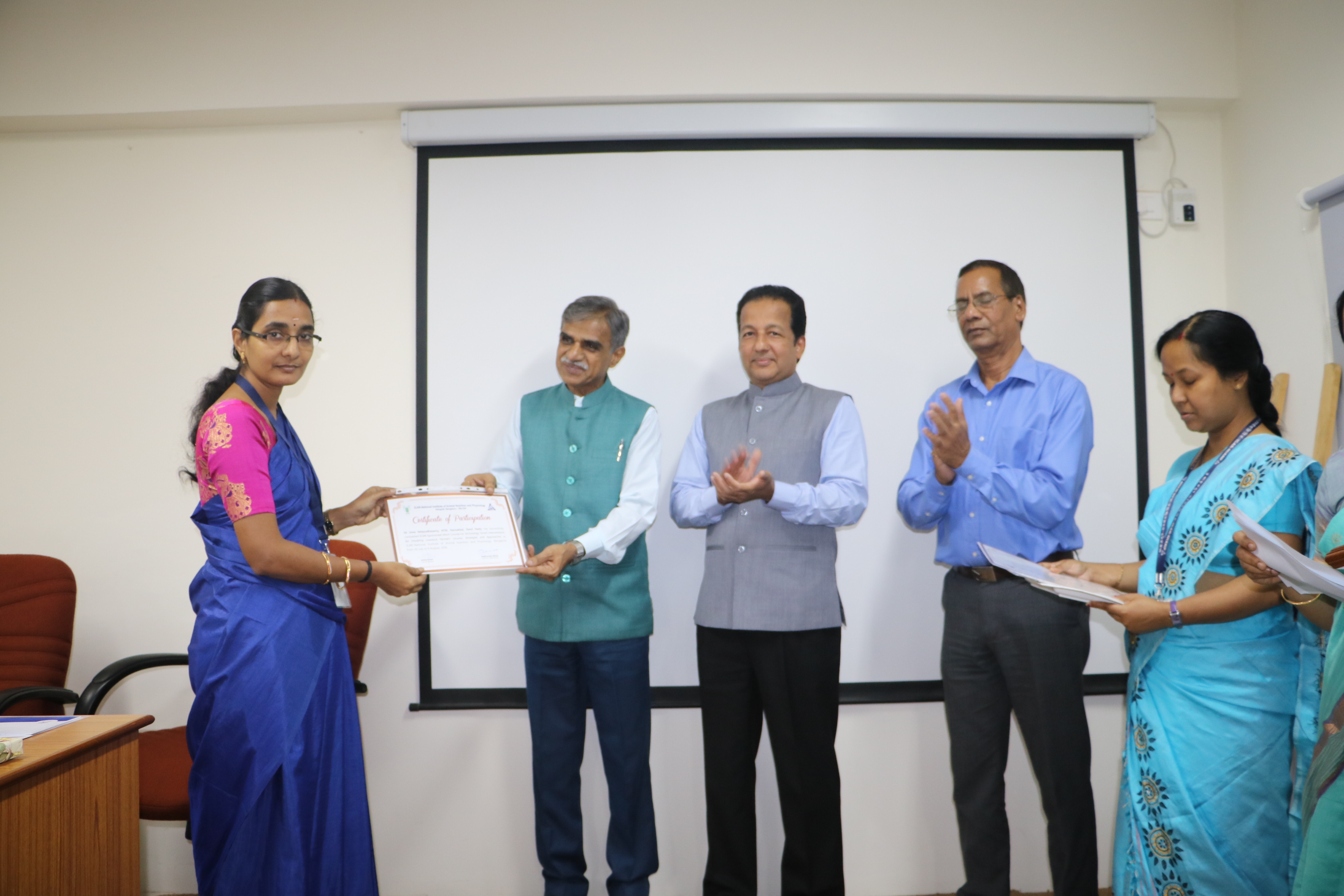 ---
Ownership:
NIANP maintains this site for your information, education, and communication. Please feel free to browse the Site.
If you are browsing the Site as a non-commercial consumer, you may download material displayed on the Site for your non-commercial, personal use only. If you are browsing this Site as an employee/agent/member of any business or organization, you may download material/ information displayed on the Site only for non-commercial purposes, personal use only. This permission is specifically conditioned on your retaining all copyright and other proprietary notices contained on the materials. Additionally, you may not distribute or transmit, modify, reuse, report, or use the contents of this site for public or commercial purpose, including the text, images, audio and video without our written permission
Your access and use of the Site is also subject to the following terms and conditions ("Terms and Conditions") and all applicable laws. By accessing and browsing the Site, you accept, without limitation or qualification, the Terms and Conditions of Use below.
Terms and Conditions of Use:
Information (content, images, specifications and prices wherever listed) are subject to change without prior notice. You should assume that all material / information on the Site is protected by copyright unless otherwise noted and may not be used except as permitted in these Terms and Conditions or in the text on this Site.
Limitation of Liability
Although care has been taken to ensure the accuracy of the contents of this Site, NIANP makes no warranties or representations as to its accuracy and NIANP specifically disclaims any liability or responsibility for any errors or omissions in the content on the Site. Neither NIANP nor any other party involved in creating, producing, or delivering the Site is liable for any direct, incidental, consequential, indirect, or punitive damages arising out of you access to, or use of, or inability to use or access, the Site. Without limiting the foregoing, everything on this Site is provided to you "AS IS" WITHOUT WARRANTY OF ANY KIND, EITHER EXPRESSED OR IMPLIED, INCLUDING, BUT NOT LIMITED TO, THE IMPLIED WARRANTIES OF MERCHANTABILITY, FITNESS FOR A PARTICULAR PURPOSE, OR NON-INFRINGEMENT.
Please note that NIANP assumes no responsibility, and shall not be liable for, any damages to, or viruses that may infect, your Computer equipment or other property on account of your access to, use of, or browsing in the Site or your downloading of any material, data, text, images, video or audio from the Site.
Responsibility for User's material / information:
The material / information provided on the Site is either the property of, or used with permission by, NIANP. Unless otherwise specified by these terms and conditions or specific permission provided elsewhere on this Site, the Site is for your personal and non-commercial use. You may not distribute, exchange, modify, sell or transmit anything you copy from this Site, including but not limited to any text, images, audio and video, for any business, commercial or public purpose. As long as you comply with the Terms and Conditions of Use, NIANP grants you a non-exclusive, non-transferable, limited right to enter, display and use this Site. Any unauthorized use of the content including images, video, animations, may violate copyright laws, trademark laws, the laws of privacy and publicity, and civil and criminal statutes.
Links
The Site may provide links to other Web Sites, which are not under control of NIANP and it shall not be responsible in any way for the contents of any such web Sites linked to or from its Site. Any inclusion of such links shall not imply / interpreted as an endorsement of the owner / sponsor of the site or the content of the site. NIANP disclaims all warranties, express and implied as to accuracy, validity, and legality or otherwise of any materials or information contained on such sites.
Right to Change The Terms and Conditions of Use or Content on the Site:
NIANP may at any time revise these Terms and Conditions of Use by updating this posting. Since you are bound by these Terms and Conditions, you should therefore periodically visit this page, by clicking on the Terms of Use hyperlink at the bottom of the web pages of the Site, to review the Terms and Conditions of Use. Copyright, unless otherwise stated, or similar rights in all material presented on the Site, including graphical images, is owned by NIANP.
Trademarks
The Trademarks, logos and service marks (collectively the "Trademarks") are the trademarks of NIANP and / or its affiliates. Any other trademarks used in the Site are trademarks of their respective owners. Nothing contained on the Site should be construed as granting, by implication, or otherwise, any license or right of use any Trademark displayed on the Site without written permission of NIANP.
NIANP can be contacted at: ICAR-National Institute of Animal Nutrition and Physiology, Hosur main Road, Adugodi, Bengaluru, Karnataka 560030
Phone: 080-25711303 /304 /164, 25702539 /46

This privacy policy sets out how we use and protect any information that you give us when you use this website.
We are committed to ensuring that your privacy is protected. Should we ask you to provide certain information by which you can be identified when using this website, then you can be assured that it will only be used in accordance with this privacy statement.
We may change this policy from time to time by updating this page. You should check this page from time to time to ensure that you are happy with any changes.
What we collect
We may collect the following information:
name and job title
contact information including email address
demographic information such as pin code, preferences and interests
other information relevant to customer surveys and/or offers
What we do with the information we gather
We require this information to understand your needs and provide you with a better service, and in particular for the following reasons:
Internal record keeping.
We may use the information to improve our products and services.
We may periodically send promotional emails about new products, special offers or other information which we think you may find interesting using the email address which you have provided.
From time to time, we may also use your information to contact you for market research purposes. We may contact you by email, phone, or mail. We may use the information to customise the website according to your interests.
Security
We are committed to ensuring that your information is secure. In order to prevent unauthorised access or disclosure we have put in place suitable physical, electronic and managerial procedures to safeguard and secure the information we collect online.
How we use cookies
A cookie is a small file which asks permission to be placed on your computer's hard drive. Once you agree, the file is added and the cookie helps analyse web traffic or lets you know when you visit a particular site. Cookies allow web applications to respond to you as an individual. The web application can tailor its operations to your needs, likes and dislikes by gathering and remembering information about your preferences.
We use traffic log cookies to identify which pages are being used. This helps us analyse data about webpage traffic and improve our website in order to tailor it to customer needs. We only use this information for statistical analysis purposes and then the data is removed from the system.
Overall, cookies help us provide you with a better website, by enabling us to monitor which pages you find useful and which you do not. A cookie in no way gives us access to your computer or any information about you, other than the data you choose to share with us.
You can choose to accept or decline cookies. Most web browsers automatically accept cookies, but you can usually modify your browser setting to decline cookies if you prefer. This may prevent you from taking full advantage of the website.
Links to other websites
Our website may contain links to other websites of interest. However, once you have used these links to leave our site, you should note that we do not have any control over that other website. Therefore, we cannot be responsible for the protection and privacy of any information which you provide whilst visiting such sites and such sites are not governed by this privacy statement. You should exercise caution and look at the privacy statement applicable to the website in question.
Controlling your personal information
You may choose to restrict the collection or use of your personal information in the following ways:
whenever you are asked to fill in a form on the website, look for the box that you can click to indicate that you do not want the information to be used by anybody for direct marketing purposes
if you have previously agreed to us using your personal information for direct marketing purposes, you may change your mind at any time by writing to or emailing us as per the information given at the start of this Privacy Policy.
We will not sell, distribute or lease your personal information to third parties unless we have your permission or are required by law to do so. We may use your personal information to send you promotional information about third parties which we think you may find interesting.
You may request details of personal information which we hold about you. A small fee will be payable. If you would like a copy of the information held on you please write to us at the address mentioned at the start of this Privacy Policy.
If you believe that any information we are holding on you is incorrect or incomplete, please write or email us as soon as possible, at the above mentioned address. We will promptly correct any information found to be incorrect.
Contacting Us
If there are any questions regarding this Privacy Policy you may contact us at the above mentioned address.