Outreach Project on
Estimation of Methane Emission under Different Feeding Systems and Development of Mitigation Strategies
Date/ Year of start: 2008-2012 (XI plan); 2012-2017 (XII plan) & 2017-2020
Project Coordinator: Dr. Raghavendra Bhatta, Director
Principal Investigators: Dr P. K. Malik
Co-Investigator: Dr. A. P. Kolte, Dr. C. Deveraj
Participating centers: XII Plan
2012-2017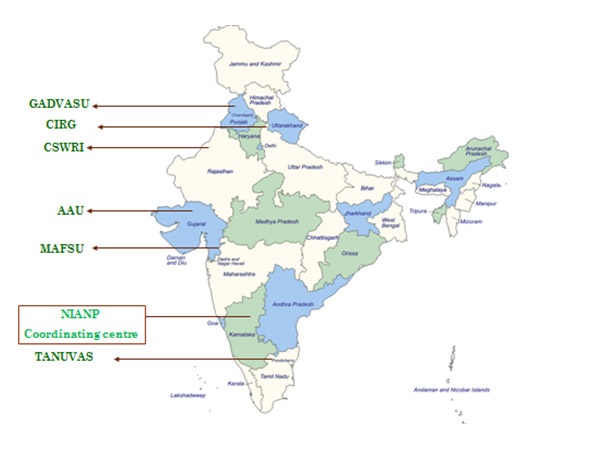 2017-2020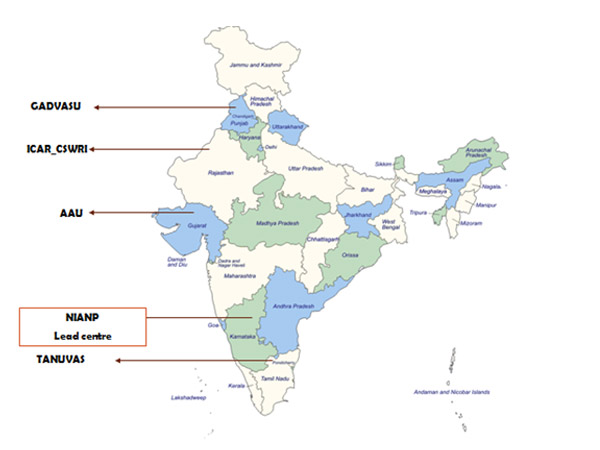 Salient Achievements
Enteric Methane Emission Database
An inventory on state wise enteric methane emission from Indian livestock was developed under outreach project. ICAR-NIANP estimate revealed that Indian livestock annually emits about 9.25 Tg enteric methane.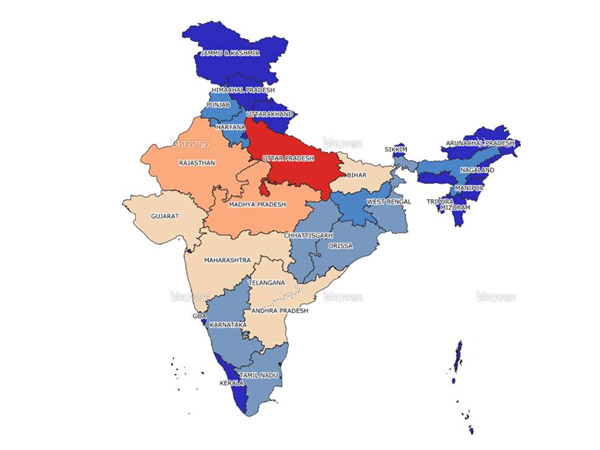 The hotspots for enteric methane emission were also identified which needs urgent attention for the amelioration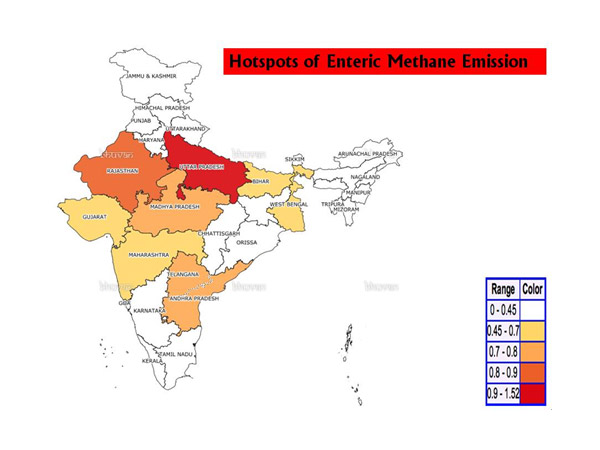 In vitro screening of phyto-sources for methane production
Methane production potential of more than 1000 feedstuffs including straws, tree leaves, shrubs, pasture grass, grain, oil cakes, agro-industrial by-products and compounded feeds from different agro-eco zones were determined in vitro and based on the methane production, the promising sources were selected and studied with graded level of supplementation for optimizing the level of inclusion in animal diet to curtail methane emission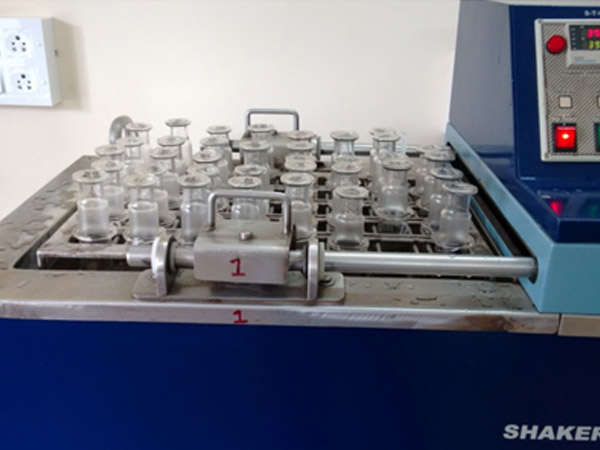 Equation for predicting methane production
Based on methane production potential and chemical composition of feedstuffs, an equation was developed to predict methane production from the given feed resources/feeding regimes
Methane (ml/100 mg digested substrate) = 14.346+0.010*CP*NDF-0.069*ADF-0.001*ADL-0.136*IVDMD
Development of methane ameliorative measures
Based on the in vitro and subsequent in vivo studies in large and small ruminants, various methane ameliorative measures were developed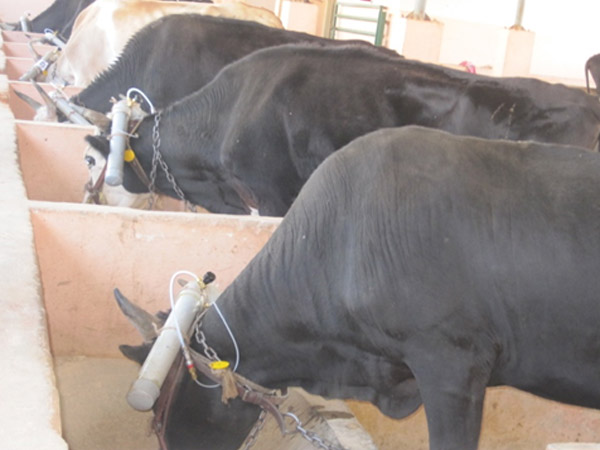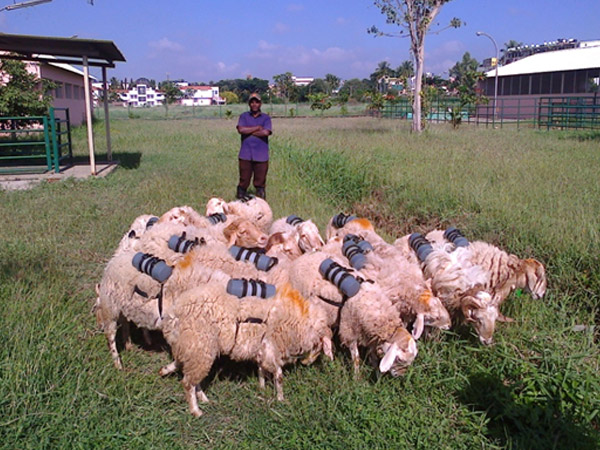 Tropical tree leaves reduce enteric methane emission
Selected tropical tree leaves from Azadirachta indica, Ficus religiosa and Artocarpus integrifolia were evaluated for their methane suppressing effect. Enteric methane was quantified using SF6 technique. Results from the in vivo study in sheep showed a reduction (p<0.05) of 20.5, 20.7 and 26.2% with the inclusion of Jack, Neem and Banyan tree leaves, respectively.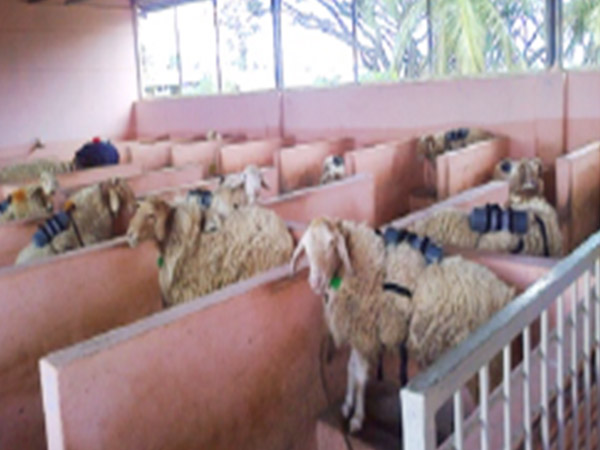 Tamarind (Tamarindus indica) seed husk as methane suppressant
Based on the in vitro results, tamarind seed husk at two graded levels of 2.5 and 5.0% of straw based diet was evaluated for methane reduction in crossbred cattle. Enteric methane emission was measured by sulphur hexafluoride (SF6) tracer technique. The supplementation of tamarind seed husk at 5% level decreased methane emission by 17% in cattle; however, supplementation at 2.5% did not show any significant reduction in methane emission.
Individual Vs Combo supplementation of tannins and saponins phyto-sources
The studies carried out using tannins or saponins as methane suppressants are confined to in vitro conditions only and there is limited information available on the in vivo methane amelioration. In vivo study was conducted in adult crossbred cattle to test whether combined supplementation of tamarind seed husk (CT source) and soapnut (saponin source) induce additional enteric methane reduction over and above the individual supplementation of selected sources. Results from the study revealed a significant (p<0.05) reduction (19.2%) in enteric methane emission (g d-1) on tamarind seed husk supplementation. However, the enteric methane emission (g/d) in soapnut (T2) and combo supplementation (T3) groups did not differ (p>0.05) from the control.
Silkworm pupae oil: a potent inhibitor of rumen methanogenesis
The research work has been initiated at the institute to explore the properties of silkworm (Bombyx mori) pupae oil as methane mitigating agent and optimize the level of the inclusion in animal feed in order to achieve significant methane reduction without compromising the feed fermentation. Silkworm pupae oil was supplemented with graded levels of 2 to 20% in finger millet and concentrate based diet. Our results indicated 15-50% reduction in methane production in vitro; while there was a concurrent substantial reduction in feed fermentation characteristics beyond the 4% level of silkworm pupae oil. The reduction in methane production at 2 and 4% level as compared to control basal diet was 16 and 30%, respectively.
Patent filed
Enteric methane emission reduction using silkworm (Bombyx mori) pupae oil" patent application numbered 201641027475 dated 11-08-2016
Methane reduction using tamarind (Tamarindus indica) seed husk" patent application numbered 3475/CHE/2014
Methane reduction using plant secondary metabolites" patent application numbered 2954/CHE/2012 dated 20.07.2012
Technology/product development
An anti-methanogenic feed supplement "Harit Dhara" was developed after rigorous in vitro and in vivo studies in different ruminant species. The supplementation of Harit Dhara at prescribed level in cattle, buffalo and sheep helps in reducing enteric methane emission in the tune of 18-20% and also helpful in improving productive performance of livestock. The use of Harit Dhara in large animals may also cut down the emission that would be equivalent to 700 litres CO2 in a day.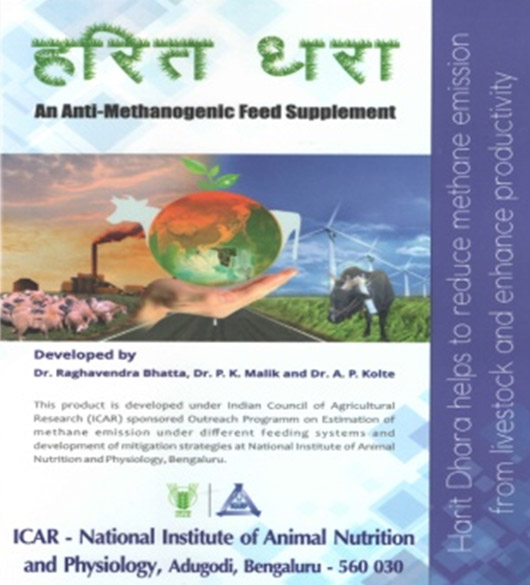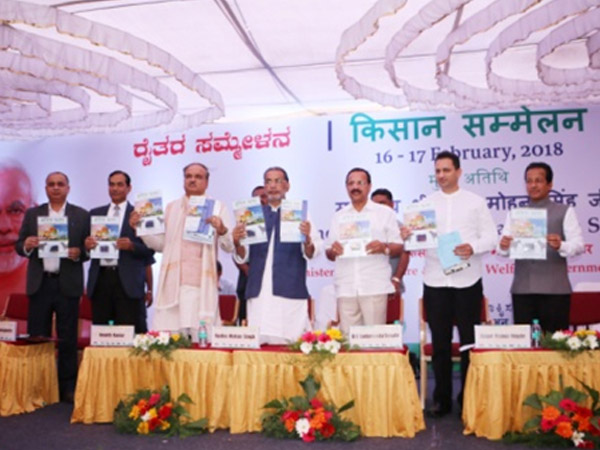 Ownership:
NIANP maintains this site for your information, education, and communication. Please feel free to browse the Site.
If you are browsing the Site as a non-commercial consumer, you may download material displayed on the Site for your non-commercial, personal use only. If you are browsing this Site as an employee/agent/member of any business or organization, you may download material/ information displayed on the Site only for non-commercial purposes, personal use only. This permission is specifically conditioned on your retaining all copyright and other proprietary notices contained on the materials. Additionally, you may not distribute or transmit, modify, reuse, report, or use the contents of this site for public or commercial purpose, including the text, images, audio and video without our written permission
Your access and use of the Site is also subject to the following terms and conditions ("Terms and Conditions") and all applicable laws. By accessing and browsing the Site, you accept, without limitation or qualification, the Terms and Conditions of Use below.
Terms and Conditions of Use:
Information (content, images, specifications and prices wherever listed) are subject to change without prior notice. You should assume that all material / information on the Site is protected by copyright unless otherwise noted and may not be used except as permitted in these Terms and Conditions or in the text on this Site.
Limitation of Liability
Although care has been taken to ensure the accuracy of the contents of this Site, NIANP makes no warranties or representations as to its accuracy and NIANP specifically disclaims any liability or responsibility for any errors or omissions in the content on the Site. Neither NIANP nor any other party involved in creating, producing, or delivering the Site is liable for any direct, incidental, consequential, indirect, or punitive damages arising out of you access to, or use of, or inability to use or access, the Site. Without limiting the foregoing, everything on this Site is provided to you "AS IS" WITHOUT WARRANTY OF ANY KIND, EITHER EXPRESSED OR IMPLIED, INCLUDING, BUT NOT LIMITED TO, THE IMPLIED WARRANTIES OF MERCHANTABILITY, FITNESS FOR A PARTICULAR PURPOSE, OR NON-INFRINGEMENT.
Please note that NIANP assumes no responsibility, and shall not be liable for, any damages to, or viruses that may infect, your Computer equipment or other property on account of your access to, use of, or browsing in the Site or your downloading of any material, data, text, images, video or audio from the Site.
Responsibility for User's material / information:
The material / information provided on the Site is either the property of, or used with permission by, NIANP. Unless otherwise specified by these terms and conditions or specific permission provided elsewhere on this Site, the Site is for your personal and non-commercial use. You may not distribute, exchange, modify, sell or transmit anything you copy from this Site, including but not limited to any text, images, audio and video, for any business, commercial or public purpose. As long as you comply with the Terms and Conditions of Use, NIANP grants you a non-exclusive, non-transferable, limited right to enter, display and use this Site. Any unauthorized use of the content including images, video, animations, may violate copyright laws, trademark laws, the laws of privacy and publicity, and civil and criminal statutes.
Links
The Site may provide links to other Web Sites, which are not under control of NIANP and it shall not be responsible in any way for the contents of any such web Sites linked to or from its Site. Any inclusion of such links shall not imply / interpreted as an endorsement of the owner / sponsor of the site or the content of the site. NIANP disclaims all warranties, express and implied as to accuracy, validity, and legality or otherwise of any materials or information contained on such sites.
Right to Change The Terms and Conditions of Use or Content on the Site:
NIANP may at any time revise these Terms and Conditions of Use by updating this posting. Since you are bound by these Terms and Conditions, you should therefore periodically visit this page, by clicking on the Terms of Use hyperlink at the bottom of the web pages of the Site, to review the Terms and Conditions of Use. Copyright, unless otherwise stated, or similar rights in all material presented on the Site, including graphical images, is owned by NIANP.
Trademarks
The Trademarks, logos and service marks (collectively the "Trademarks") are the trademarks of NIANP and / or its affiliates. Any other trademarks used in the Site are trademarks of their respective owners. Nothing contained on the Site should be construed as granting, by implication, or otherwise, any license or right of use any Trademark displayed on the Site without written permission of NIANP.
NIANP can be contacted at: ICAR-National Institute of Animal Nutrition and Physiology, Hosur main Road, Adugodi, Bengaluru, Karnataka 560030
Phone: 080-25711303 /304 /164, 25702539 /46

This privacy policy sets out how we use and protect any information that you give us when you use this website.
We are committed to ensuring that your privacy is protected. Should we ask you to provide certain information by which you can be identified when using this website, then you can be assured that it will only be used in accordance with this privacy statement.
We may change this policy from time to time by updating this page. You should check this page from time to time to ensure that you are happy with any changes.
What we collect
We may collect the following information:
name and job title
contact information including email address
demographic information such as pin code, preferences and interests
other information relevant to customer surveys and/or offers
What we do with the information we gather
We require this information to understand your needs and provide you with a better service, and in particular for the following reasons:
Internal record keeping.
We may use the information to improve our products and services.
We may periodically send promotional emails about new products, special offers or other information which we think you may find interesting using the email address which you have provided.
From time to time, we may also use your information to contact you for market research purposes. We may contact you by email, phone, or mail. We may use the information to customise the website according to your interests.
Security
We are committed to ensuring that your information is secure. In order to prevent unauthorised access or disclosure we have put in place suitable physical, electronic and managerial procedures to safeguard and secure the information we collect online.
How we use cookies
A cookie is a small file which asks permission to be placed on your computer's hard drive. Once you agree, the file is added and the cookie helps analyse web traffic or lets you know when you visit a particular site. Cookies allow web applications to respond to you as an individual. The web application can tailor its operations to your needs, likes and dislikes by gathering and remembering information about your preferences.
We use traffic log cookies to identify which pages are being used. This helps us analyse data about webpage traffic and improve our website in order to tailor it to customer needs. We only use this information for statistical analysis purposes and then the data is removed from the system.
Overall, cookies help us provide you with a better website, by enabling us to monitor which pages you find useful and which you do not. A cookie in no way gives us access to your computer or any information about you, other than the data you choose to share with us.
You can choose to accept or decline cookies. Most web browsers automatically accept cookies, but you can usually modify your browser setting to decline cookies if you prefer. This may prevent you from taking full advantage of the website.
Links to other websites
Our website may contain links to other websites of interest. However, once you have used these links to leave our site, you should note that we do not have any control over that other website. Therefore, we cannot be responsible for the protection and privacy of any information which you provide whilst visiting such sites and such sites are not governed by this privacy statement. You should exercise caution and look at the privacy statement applicable to the website in question.
Controlling your personal information
You may choose to restrict the collection or use of your personal information in the following ways:
whenever you are asked to fill in a form on the website, look for the box that you can click to indicate that you do not want the information to be used by anybody for direct marketing purposes
if you have previously agreed to us using your personal information for direct marketing purposes, you may change your mind at any time by writing to or emailing us as per the information given at the start of this Privacy Policy.
We will not sell, distribute or lease your personal information to third parties unless we have your permission or are required by law to do so. We may use your personal information to send you promotional information about third parties which we think you may find interesting.
You may request details of personal information which we hold about you. A small fee will be payable. If you would like a copy of the information held on you please write to us at the address mentioned at the start of this Privacy Policy.
If you believe that any information we are holding on you is incorrect or incomplete, please write or email us as soon as possible, at the above mentioned address. We will promptly correct any information found to be incorrect.
Contacting Us
If there are any questions regarding this Privacy Policy you may contact us at the above mentioned address.