Micro Nutrient
Laboratory
The laboratory is established and mandated for doing research on micronutrients for animal production and reproduction. The laboratory is equipped with high throughput instruments and equipments for analyzing macro and micro minerals as well as toxic heavy metals in feeds and fodders, soil, water, animal products like meat, milk, egg, hair and skin etc. The recent research investigations carried out in the laboratory are mentioned below:
Evaluate the micronutrients status and their dynamics in soil, water, feeds and fodders and animals
Identification and analysis of mineral status using sensitive biochemical and molecular markers
Assessing the bioavailability of minerals from feeds and fodders and developing chelated /nano /encapsulated minerals for improving the bioavailability of minerals in livestock and poultry birds
Studies on metal-gene interactions in molecular mechanisms of productive and reproductive function
Research on newer minerals for livestock feeding
Development of cost-effective technologies on micronutrients supplementation for improving animal productive and reproductive efficiency
Identification and nutritional evaluation of alternate feed resources for livestock feeding
Assessing toxic heavy metals profile in soil, feeds and fodders and animal products (like milk and meat)
Analytical support to farmers, entrepreneurs, NGOs, students for analysis of samples for minerals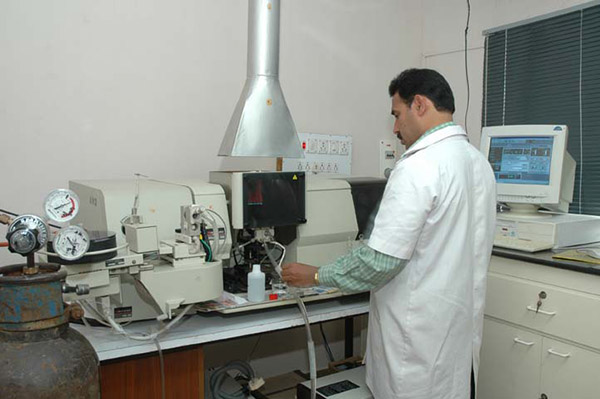 ---
Toxicology
Laboratory
The laboratory is well equipped with all modern equipment for estimation of toxic elements in feeds, fodder water, soil and biological materials. The laboratory has HPLC system, thin layer chromatography facilities for estimation of toxins like the aflatoxins (B1, B2, G1 G2). Facilities also exists for estimation of fluorides, nitrate, lead and cadmium in different samples.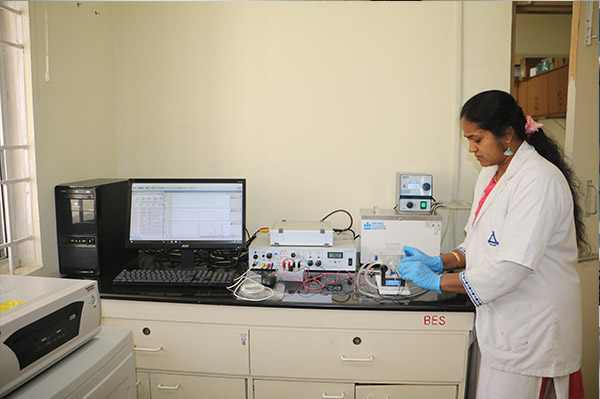 ---
Feed Analysis
Laboratory
The laboratory is having all the facilities for proximate principles estimation and in vitro digestibility studies. It is well equipped with automated instruments like moisture analyzer, soxtherm, Kjeltec system, rapid fiber analyzer for rapid and precise estimation of various parameters like moisture, fat, protein and fiber. The laboratory caters to analytical requirements of various on going projects and the samples from outside agencies like milk federations, commercial firms and farmers.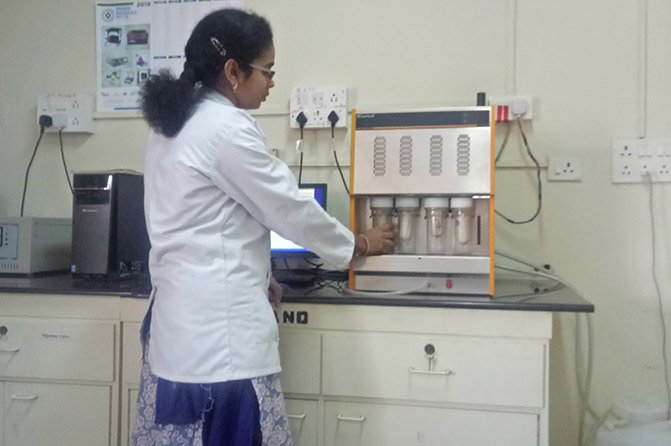 ---
Rumen Biotechnology
Laboratory
The laboratory is established to isolate and characterize the rumen microbes including bacteria, protozoa and rumen methanogens. The laboratory is well equipped with modern facilities such as anaerobic chamber, fluorescent microscope, PCR, qPCR, gel doc, sample concentrator, bead beater etc.
The recent research in the laboratory is outlined below:
Isolation and characterization of rumen microbes including methanogens from the rumen
Rumen methanogens profiling in cattle and buffalo at the country level
Enumeration and characterization of rumen protozoa
Microbial diversity analysis using 16s rRNA based conventional (cloning) and next generation sequencing approaches
Human resource development by imparting Hands-on-Training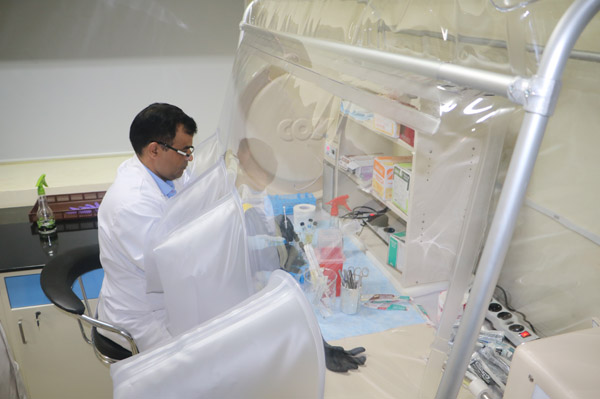 ---
Radioisotope and
Endocrinology Laboratory
The Radioisotope & Endocrinology Laboratory was established in 1998 and certified RIA Type II Laboratory and licensed by AERB(BARC), , Mumbai to handle radioisotopes up to 2 millicurie activity. The objective of the laboratory is to carter the application of radioisotopes and molecular endocrinological tools for various research projects taken up at the institute. The laboratory is focused to conduct the basic endocrine and neuroendocrine hormone dependent productive status, wellbeing in farm animals and poultry. The laboratory is well equipped with state of art facilities to carry out assays, and monitor radiological safety aspects.
The recent research investigations carried out in the laboratory are as follows:
Over the past 25 years, the laboratory has developed and validated radio immunoassays, radio-receptor assays and enzyme immunoassays for a wide array of species and sample types.
Protocols have been developed to improve egg production in commercial and backyard chicken by suppressing prolactin levels and by modulating the wavelength of light in poultry houses and transferred.
Protocol has been developed to produce eggs with low lipid content and to enhance egg production beyond the productive age in commercial layer hens by feeding garlic.
Methodologies were developed to isolate Follicle stimulating hormone (FSH), Luteinizing hormone (LH) and prolactin from buffaloe pituitary gland and partially purified for development of homologous assays.
In vitro suppression of prolactin transcription and translation in hen embryonic pituicytes by RNA interference.
In vitro suppression of myostatin transcription and translation in broiler chicken by siRNA.
Identification of molecular regulatory factors and modulation of corpus luteum function.
RNAi technology for modulating hormones to improve egg and meat production in poultry.
Effect of season and dietary energy on the neuroendocrine regulation of reproduction in farm animals.
Biophysical translation of nutrients and bio mineralization of the egg during ovulatory cycle in domestic hen
Regulation of the hypothalamo-hyopysio–gonadal/adrenal axes and mitochondria by phytochemicals in domestic chicken to augment egg and meat production.
Endocrine studies on reproductive performance and fertility augmentation in deoni cattle.
CRISPR/CAS9 guided functional analysis of genes regulating early embryonic survival in buffalo.
Identification and characterization of gene expression in sheep endometrium in association with recognition and establishment of pregnancy.
Cloning, characterization and expression of PGES, PGFS, FGF2, OPN, INT and COX-2 genes in sheep.
Suppression of caprine COX-2 transcription in in vitro cultured goat endometrial cells by RNA interference.
Delineating the effect of heat stress, nutritional stress and combined heat and nutritional stress on the expression of PGES, PGFS, COX-2, integrin, osteopontin, galactin, FGF2, iNOS, HSP70, Mx, IGF1R and serpin genes during early pregnancy in sheep endometrium.
Elucidating the impact of heat stress on oocyte maturation and endometrial function in sheep.
Unraveling the impact of heat stress on prostaglandin production and expression of COX-2, PGES, PGFS, integrin and galactin mRNAs in buffalo endometrial epithelial cells.
The laboratory also provides diagnostic services to various universities and ICAR organizations at minimal cost.
The laboratory has thrown its doors open to post graduate and doctoral students to carry out hormonal &molecular endocrinology research work to fulfil the requirement of their dissertation. A total of 30 Post graduate students have graduated from this laboratory.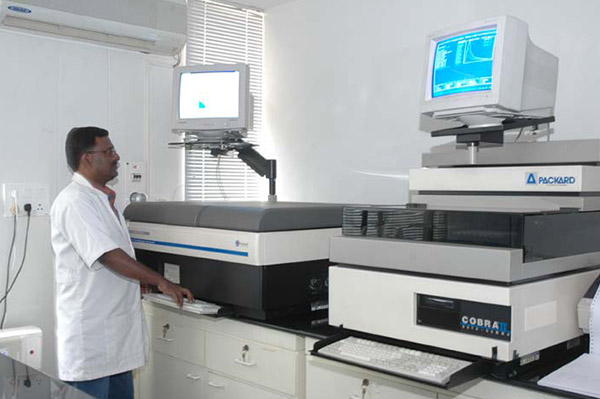 ---
Energy Metabolism
Laboratory
The laboratory is established for quantifying greenhouse gas emissions from the livestock production in the country and devising cost effective and farmers' friendly mitigation strategies for reducing the emissions. The laboratory is a state of art facility, fully equipped for quantifying in vitro and in vivo methane emission, exploring rumen microbial diversity including methanogens and feed analysis. The laboratory has international collaborations with Japan, Germany, Australia and Kenya. At present, there are two ongoing international collaborative projects entitled " Methane emission and its mitigation (ILRI-ICAR)" & "Optimized use of feed resources for high lifetime productivity of dairy cows and consequences on methane release (Indo-German)". An international collaborative project (Indo-Japan) on "Methane mitigation using unexplored phyto-sources in ruminants and their effect on rumen microbial diversity" has recently been accomplished with Shinshu University, Ina and National Institute of Livestock and Grassland Science. The laboratory received the funding from ICAR, DBT and DST and handling a mega project on "Estimation of methane emission under different feeding systems and development of mitigation strategies" since 2007.
The recent research and accomplishment of the laboratory are outlined below:
Developed the state, region and district wise inventory on enteric methane emission from Indian livestock
Developed farmers' friendly methane ameliorative approaches using tropical tree leaves, agricultural waste, region specific phyto-sources, saponiferous material and oil
Four patents have been filed from the laboratory claiming the anti-methanogenic properties
Two products namely Harit Dhara (an anti-methanogenic feed supplement) and Tamarin Plus (tamarind seed husk enriched complete feed block) have been developed
Human resource development by imparting both National and International trainings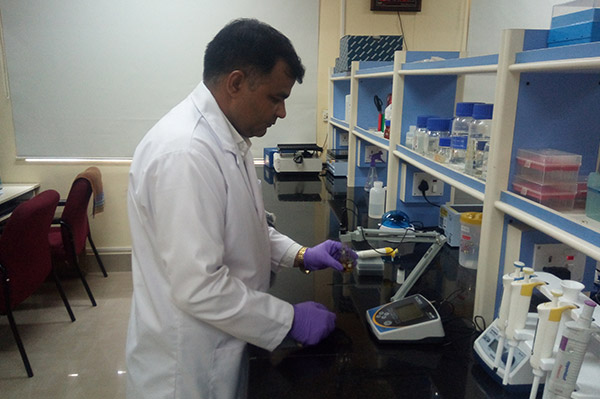 ---
Reproductive Physiology
Laboratory
Reproductive Physiology Laboratory focuses on improving fertility in farm animals by working on novel areas such as, profiling of sperm transcripts for predicting/screening male fertility, sperm sexing by proteomic approaches, molecular markers for assessment of semen quality and cryo-susceptibility, and spermatogonial stem cell research. The laboratory is equipped with modern state of art facilities such as Computer assisted semen analyzer (CASA), Controlled rate semen bio-freezer, Phase contrast and Fluorescent microscopes, Real-time PCR, 2D Gel electrophoresis, Chemi-Documentation system, Cryotome, Histotome, Cell culture incubator, Viscometer, Small volume spectrophotometer, Nucleic acid shearing sonicator, etc., for advanced semen evaluation techniques and sperm transcriptomics, proteomic and cryopreservation studies.
Many students from IVRI-Bareilly, KVAFSU-Bidar, AAU-Assam and Jain University-Bengaluru successfully completed their Master and Doctoral research thesis work at this Laboratory. The laboratory hosts FOCARS professional attachment training for ICAR scientists and DBT-TWAS fellowship program for international scholars. Presently, many research (Post-doc, Doctoral and Master) scholars are carrying out their research work at this laboratory.
The ongoing research projects in the laboratory are: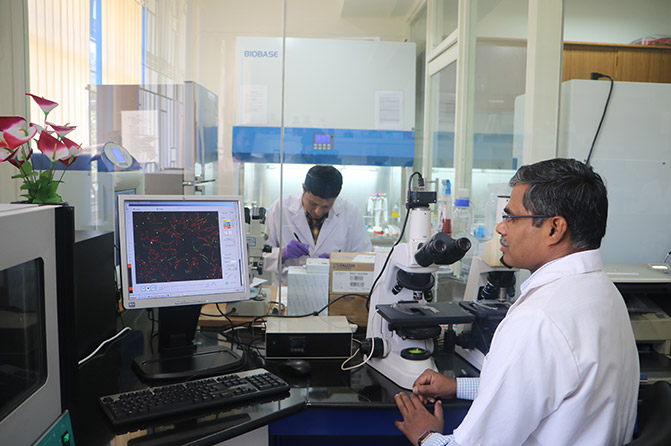 ---
Animal Biotechnology
Laboratory
This laboratory was established in the year 2000. The laboratory produced the first buffalo embryo using oocyte retrieved from in vitro grown preantral follicles.
Work involves following aspects:
Cryopreservation of Preantral follicles
Signaling pathways and Functional genomics of ruminant folliculogenesis
Free radical scavengers mediated alteration in developmental potential of embryos in vitro
To assess developmental potential of sex specific embryos in vitro
Manipulation of culture condition to produced desired sex embryos in vitro
Sex specific differences in relative expression level of genes related to embryonic development
Identification of biomarkers of developmental competence of preantral follicle, oocyte and embryos under environmental, nutritional and metabolic stress
Endocrine disruptors and gamete functions
Identification of gene expression pathways in gametes-embryo-oviduct-uterus communication in ruminants
Endoplasmic reticulum and mitochondrial stress signaling in oocytes and embryos
---
Molecular Biology
Laboratory
The Molecular Biology Laboratory of the institute was established in 1998 with the vision of conducting research in the critical and unresolved areas of reproductive biology, physiology, biotechnology and allied subjects in domestic animal species using advanced molecular biology tools and platforms. The laboratory has state of the art facilities for working in the area of protein, nucleic acid, recombinant protein production in prokaryotic and eukaryotic host and other in vitro experiments. The laboratory is equipped with ultracentrifuge, refrigerated and non-refrigerated centrifuges, ultrasonic processor, tissue homogenizer, gel electrophoresis system for proteins and nucleic acids separation, two-dimensional gel electrophoresis system, imaging systems for chromogenic, fluorescence and radio-labelled gels, fast pressure liquid chromatography system, CO2 incubators, Biological Safety cabinet, Laminar Air flow system, Inverted Fluorescence Microscope, DIC and fluorescent compound microscopes, shaker incubators, gradient and real-time PCR systems, spectrophotometer, micro-plate reader for small volume quantification, heavy duty Water purification system etc. This laboratory has on-going and envisaged research focuses as well as work in collaboration with intra and inter-institutional projects. Following are the current interest of research in the laboratory:
Development of pregnancy early pregnancy biomarkers and diagnostic assay in buffalo
Role of exosomes in pregnancy signalling and related events
Characterizing protein, peptides and microRNA functions and expression
Stem cell biology in animals and poultry
Exploring developmental biology related issues, uterine, ovarian and placental biology in domestic animals and poultry
Development of suitable/novel semen extender for improved post-thaw motility and fertility of buffalo semen
Molecular cloning, characterization and recombinant production of buffalo bull fertility- and sperm motility-associated proteins
Use of recombinant proteins in semen extender for improving fertility and cryo-survival of buffalo semen and development of assays to screen fertile and sub-fertile buffalo bulls
Identification of functional biomolecules that influence reproductive processes in livestock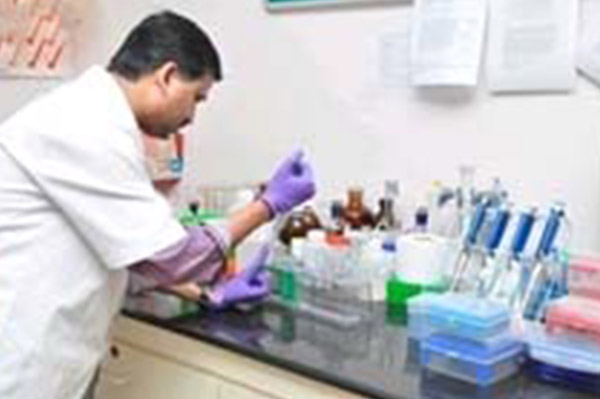 ---
Nutrient Kinetics and
Integrative Physiology Laboratory
The laboratory was established in 2012 for unraveling the mechanism(s) of nutrient kinetics and the biophysical translation in integrating the homeostatic mechanism involved in the regulation of various physiological processes in livestock. The laboratory is equipped to handle gene expression studies, cell culture, hormone estimations and blood biochemical variables. The recent research investigations carried out in the laboratory are mentioned below:
Elucidating the cellular and molecular mechanisms for livestock adaptation to climate change
Genes associated with thermo-tolerance in livestock
Regulation, integration and modulation of gastrointestinal functions in livestock
Nutrient-gene interactions in various physiological functions
Nutrition-Immune system interaction in livestock
Integrative response of animals to internal and external stimulants for maintaining homeostasis
Screening of indigenous goat breeds to identify breeds with extreme climate resilience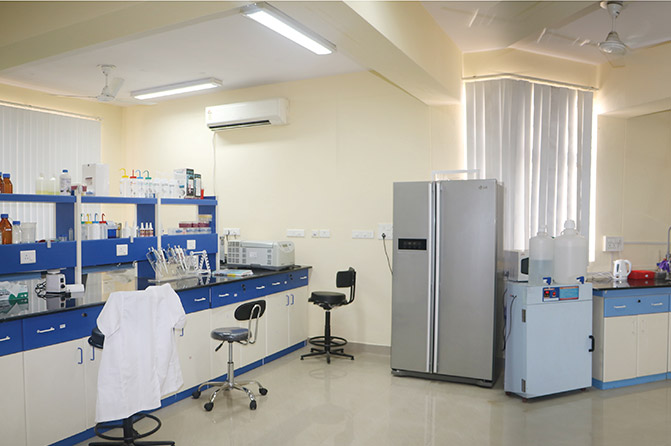 ---
Feed Resources and
Informatics Laboratory
The laboratory was established 2013 to serve the stakeholder through evaluation of feed resources and development of technologies related to feeds and fodder. The latest technologies are used to develop informatics tools to analyse data and disseminated the information on feeds and fodder to the farmers, policy makers, feed, dairy and poultry industry. Nanotechnology is emerging field, its application in feed industry is vital in coming year. Hence, nanotechnology related research works are carried out in this laboratory. Expertises are working in this lab for development of feed formulation software and feed portal. The recent research work carried out in this laboratory is listed below:
Feed Portal: Information related to nutrient requirements, feeding standard, ingredients related details are available as feed portal
Feed Chart: Multi lingual (Hindi, English, Kannada, Tamil and Telugu) print media for ration balancing of milch cattle and buffaloes. It also available as web page, click here to view
NIANP-Feed Chart Android Application: Available in Google play store to cater the need of young generation dairy entrepreneur.
TMR Feed Formulation Software: Excel based total mixed ration – feed formulation software for dairy industry and for least cost compounded feed formulation to cater the need of feed industry.
An International consultancy project funded by International Center for Agricultural Research in the Dry Areas (ICARDA) entitled "Development of ration balancing tool for growing lambs and fattening sheep" was completed during the year 2018.
Project on "Utilization of nano zinc and its impacts on growth and reproduction in goats" were completed during 2017.
Project on "Effect of feeding organic chromium in biotic stressed laying birds" was completed.
Skewing sex ratio by feed supplementation - Project funded by National Agricultural Science Fund is on progress.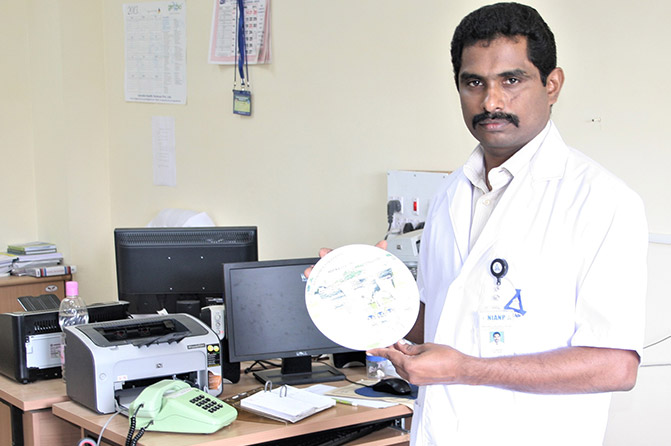 ---
Feed Quality and
Safety Laboratory
This laboratory was established to cater the requirements of feed quality and safety under feed resources group. The laboratory has facilities for undertaking basic nutritional analysis of feeds and biological materials. This laboratory has equipments like Gas Chromatograph fitted with electron capture detector and flame ionization detector; Compound microscope with image analysis software; Refrigerated Centrifuge; MilliQ Water purification system; Gerhardt Nitrogen analyser; Soxhtherm (Rapid fat analyzer); CEM Microwave Muffle furnace.
Following are the salient accomplishments:
Three non conventional oil cakes namely Castor, Azadirachta indica, Pongamia have been evaluated as protein supplements after detoxification.
Ayurvedic Medicinal Residues (AMR) have been utilized as alternate source for conventional protein supplements.
Nano Zinc has been evaluated as a replacement for conventional zinc source at reduced levels.
Feed Microscopy technique was established as a tool to detect adulteration in feed materials.
Bio-fortified by-products (straw, bran) of rice, wheat, pearl millet, sorghum are being nutritionally evaluated using in vitro technique.
Samples of Soil, Water, Feed, Fodder, Milk and hair samples are being monitored for pesticide residues and heavy metals.
Encapsulation of Micro nutrients is being attempted in collaboration with SRS, NDRI, Bangalore.
Support to researchers from within and outside institute in the area of proximate analysis, fatty acids, pesticide residues.
Feed Analytical services are provided to Milk Federations, Government agencies, Feed Factories on payment basis.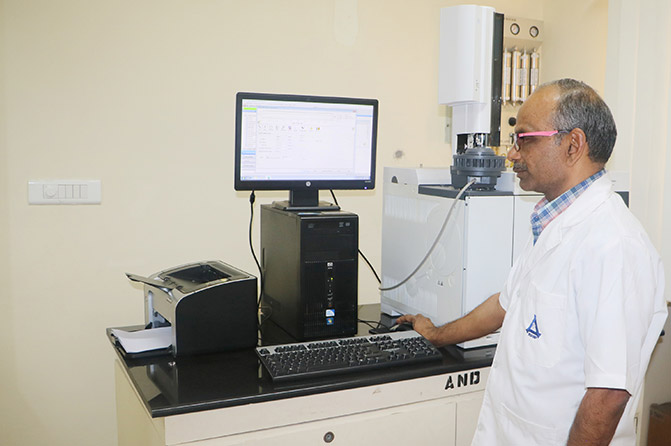 ---
Feed Additives and
Nutraceuticals Laboratory
The laboratory was established in 2008 to carry out advanced research in the areas of nutraceuticals particularly prebiotic, probiotic, gut microflora and alternate feed additives. The current facilities of the laboratory includes High Performance Liquid Chromatography, PCR, Laminar Flow, Nano volume spectrophotometer, High Speed Refrigerated Centrifuge, Ultra-sonic bath, Thin layer chromatography, spray drying etc. As a result of dedicated efforts of the team members, the laboratory was successful in obtaining grants from several funding bodies and successfully completed six extramural research projects. The research achievements of the laboratory were adjudged as "ICAR- Outstanding Interdisciplinary Team Research Award" in 2014. The recent research investigations carried out in the laboratory are outlined below:
Process for xylan extraction from agricultural wastes and byproducts
Enzymatic process for xylooligosaccharides (prebiotic) production from natural grass, corn cobs and husks, green coconut husks, pigeon pea stalks, cotton stalks, tobacco stalks etc.
Short Chain oligosaccharides production from inulin and its evaluation as prebiotic
D-tagatose - production & evaluation as nutraceutical
Prebiotic as alternative to antibiotic growth promoters in pig
Qualitative assay for endo-xylanase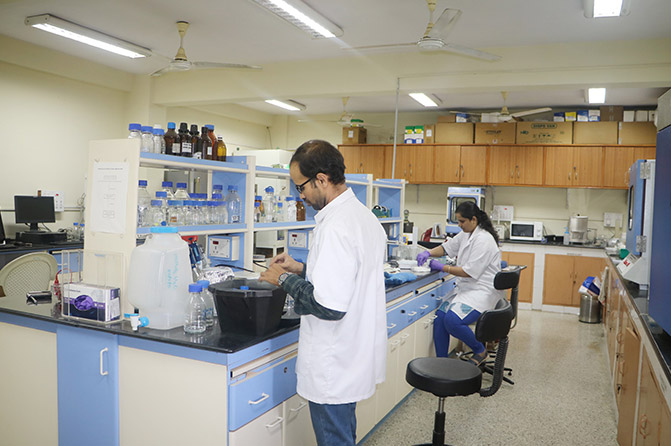 ---
Omics
Laboratory
The laboratory was established in 2010 to cater the advanced requirements of Omics technologies in existing research work and mandated to work on application of high throughput technologies. The laboratory is equipped to handle transcriptomics, metagenomics and proteomics protocols and bioinformatics. The recent research investigations carried out in the laboratory are mentioned below:
Oocyte transcriptome to unravel determinants of development competence
Liver transcriptomic insights into aflatoxin toxicity in broiler birds
Microbial community analysis based on Terminal Restriction Fragment Analysis in prebiotic and herbal residue supplementation in pig, poultry and fishes.
Microbial community analysis based on amplicon sequencing of 16s rDNA tags for assessing impact of methane reduction through plant bioactive compounds
Metagenome sequencing of rumen microbes in domestic livestock species
Metabolome characterization of the rumen environment
Production of recombinant proteins in bacteria and yeast systems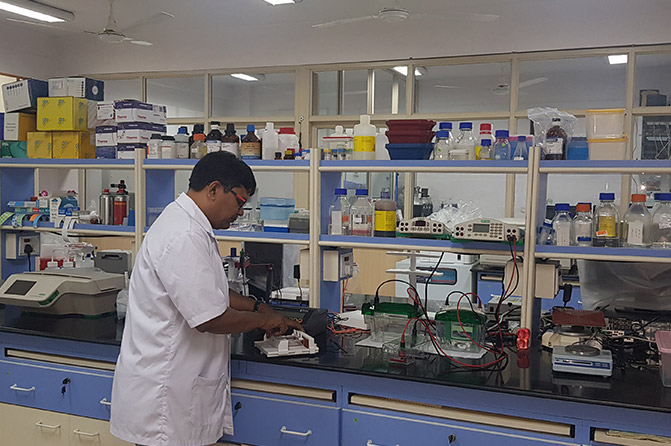 Ownership:
NIANP maintains this site for your information, education, and communication. Please feel free to browse the Site.
If you are browsing the Site as a non-commercial consumer, you may download material displayed on the Site for your non-commercial, personal use only. If you are browsing this Site as an employee/agent/member of any business or organization, you may download material/ information displayed on the Site only for non-commercial purposes, personal use only. This permission is specifically conditioned on your retaining all copyright and other proprietary notices contained on the materials. Additionally, you may not distribute or transmit, modify, reuse, report, or use the contents of this site for public or commercial purpose, including the text, images, audio and video without our written permission
Your access and use of the Site is also subject to the following terms and conditions ("Terms and Conditions") and all applicable laws. By accessing and browsing the Site, you accept, without limitation or qualification, the Terms and Conditions of Use below.
Terms and Conditions of Use:
Information (content, images, specifications and prices wherever listed) are subject to change without prior notice. You should assume that all material / information on the Site is protected by copyright unless otherwise noted and may not be used except as permitted in these Terms and Conditions or in the text on this Site.
Limitation of Liability
Although care has been taken to ensure the accuracy of the contents of this Site, NIANP makes no warranties or representations as to its accuracy and NIANP specifically disclaims any liability or responsibility for any errors or omissions in the content on the Site. Neither NIANP nor any other party involved in creating, producing, or delivering the Site is liable for any direct, incidental, consequential, indirect, or punitive damages arising out of you access to, or use of, or inability to use or access, the Site. Without limiting the foregoing, everything on this Site is provided to you "AS IS" WITHOUT WARRANTY OF ANY KIND, EITHER EXPRESSED OR IMPLIED, INCLUDING, BUT NOT LIMITED TO, THE IMPLIED WARRANTIES OF MERCHANTABILITY, FITNESS FOR A PARTICULAR PURPOSE, OR NON-INFRINGEMENT.
Please note that NIANP assumes no responsibility, and shall not be liable for, any damages to, or viruses that may infect, your Computer equipment or other property on account of your access to, use of, or browsing in the Site or your downloading of any material, data, text, images, video or audio from the Site.
Responsibility for User's material / information:
The material / information provided on the Site is either the property of, or used with permission by, NIANP. Unless otherwise specified by these terms and conditions or specific permission provided elsewhere on this Site, the Site is for your personal and non-commercial use. You may not distribute, exchange, modify, sell or transmit anything you copy from this Site, including but not limited to any text, images, audio and video, for any business, commercial or public purpose. As long as you comply with the Terms and Conditions of Use, NIANP grants you a non-exclusive, non-transferable, limited right to enter, display and use this Site. Any unauthorized use of the content including images, video, animations, may violate copyright laws, trademark laws, the laws of privacy and publicity, and civil and criminal statutes.
Links
The Site may provide links to other Web Sites, which are not under control of NIANP and it shall not be responsible in any way for the contents of any such web Sites linked to or from its Site. Any inclusion of such links shall not imply / interpreted as an endorsement of the owner / sponsor of the site or the content of the site. NIANP disclaims all warranties, express and implied as to accuracy, validity, and legality or otherwise of any materials or information contained on such sites.
Right to Change The Terms and Conditions of Use or Content on the Site:
NIANP may at any time revise these Terms and Conditions of Use by updating this posting. Since you are bound by these Terms and Conditions, you should therefore periodically visit this page, by clicking on the Terms of Use hyperlink at the bottom of the web pages of the Site, to review the Terms and Conditions of Use. Copyright, unless otherwise stated, or similar rights in all material presented on the Site, including graphical images, is owned by NIANP.
Trademarks
The Trademarks, logos and service marks (collectively the "Trademarks") are the trademarks of NIANP and / or its affiliates. Any other trademarks used in the Site are trademarks of their respective owners. Nothing contained on the Site should be construed as granting, by implication, or otherwise, any license or right of use any Trademark displayed on the Site without written permission of NIANP.
NIANP can be contacted at: ICAR-National Institute of Animal Nutrition and Physiology, Hosur main Road, Adugodi, Bengaluru, Karnataka 560030
Phone: 080-25711303 /304 /164, 25702539 /46

This privacy policy sets out how we use and protect any information that you give us when you use this website.
We are committed to ensuring that your privacy is protected. Should we ask you to provide certain information by which you can be identified when using this website, then you can be assured that it will only be used in accordance with this privacy statement.
We may change this policy from time to time by updating this page. You should check this page from time to time to ensure that you are happy with any changes.
What we collect
We may collect the following information:
name and job title
contact information including email address
demographic information such as pin code, preferences and interests
other information relevant to customer surveys and/or offers
What we do with the information we gather
We require this information to understand your needs and provide you with a better service, and in particular for the following reasons:
Internal record keeping.
We may use the information to improve our products and services.
We may periodically send promotional emails about new products, special offers or other information which we think you may find interesting using the email address which you have provided.
From time to time, we may also use your information to contact you for market research purposes. We may contact you by email, phone, or mail. We may use the information to customise the website according to your interests.
Security
We are committed to ensuring that your information is secure. In order to prevent unauthorised access or disclosure we have put in place suitable physical, electronic and managerial procedures to safeguard and secure the information we collect online.
How we use cookies
A cookie is a small file which asks permission to be placed on your computer's hard drive. Once you agree, the file is added and the cookie helps analyse web traffic or lets you know when you visit a particular site. Cookies allow web applications to respond to you as an individual. The web application can tailor its operations to your needs, likes and dislikes by gathering and remembering information about your preferences.
We use traffic log cookies to identify which pages are being used. This helps us analyse data about webpage traffic and improve our website in order to tailor it to customer needs. We only use this information for statistical analysis purposes and then the data is removed from the system.
Overall, cookies help us provide you with a better website, by enabling us to monitor which pages you find useful and which you do not. A cookie in no way gives us access to your computer or any information about you, other than the data you choose to share with us.
You can choose to accept or decline cookies. Most web browsers automatically accept cookies, but you can usually modify your browser setting to decline cookies if you prefer. This may prevent you from taking full advantage of the website.
Links to other websites
Our website may contain links to other websites of interest. However, once you have used these links to leave our site, you should note that we do not have any control over that other website. Therefore, we cannot be responsible for the protection and privacy of any information which you provide whilst visiting such sites and such sites are not governed by this privacy statement. You should exercise caution and look at the privacy statement applicable to the website in question.
Controlling your personal information
You may choose to restrict the collection or use of your personal information in the following ways:
whenever you are asked to fill in a form on the website, look for the box that you can click to indicate that you do not want the information to be used by anybody for direct marketing purposes
if you have previously agreed to us using your personal information for direct marketing purposes, you may change your mind at any time by writing to or emailing us as per the information given at the start of this Privacy Policy.
We will not sell, distribute or lease your personal information to third parties unless we have your permission or are required by law to do so. We may use your personal information to send you promotional information about third parties which we think you may find interesting.
You may request details of personal information which we hold about you. A small fee will be payable. If you would like a copy of the information held on you please write to us at the address mentioned at the start of this Privacy Policy.
If you believe that any information we are holding on you is incorrect or incomplete, please write or email us as soon as possible, at the above mentioned address. We will promptly correct any information found to be incorrect.
Contacting Us
If there are any questions regarding this Privacy Policy you may contact us at the above mentioned address.